Shopping Cart
Your Cart is Empty
There was an error with PayPal
Click here to try again
Thank you for your business!
You should be receiving an order confirmation from Paypal shortly.
Exit Shopping Cart
Pianoles voor kinderen en volwassenen ,bij U thuis of Online
| | |
| --- | --- |
| Posted on June 9, 2014 at 2:20 PM | |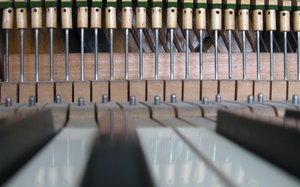 De Piano uitvoering!
Geplaatst op 9 juni, 2014 om 11:25 Comments reacties (0)
Heel veel mensen hebben om deze tijd van het jaar een piano uitvoering.
Het klinkt simpel: je zoekt een paar mooie muziekstukken uit,gaat hard oefenen en gaat op de dag zelf een geweldige indruk maken op iedereen!
In werkelijkheid is het toch iets moeilijker:misschien ben je wel zenuwachtig en maak je fouten.
Wat kun je eraan doen om weinig fouten te maken en niet te zenuwachtig te zijn?
1-Dit is logisch: zorg dat je muziekstukken goed kent.
Probeer iedere dag te oefenen en speel je stukken een aantal keren helemaal door.
Als er bepaalde plekken zijn waar het fout gaat moet je die gedeeltes extra veel aandacht geven:je speelt dat stuk een paar keer achter elkaar op verschillende manieren:de ene keer heel langzaam,dan weer wat vlugger totdat het goed gaat
Toch is het geen goed idee om te stoppen bij iedere fout die je maakt:je raakt er dan aan gewend om iedere keer op die plaats stil te blijven staan en dan klinkt de muziek echt niet goed!
Speel het hele stuk daarom ook eens een keer helemaal door en spreek met jezelf af dat je nergens stopt:wat er ook gebeurt:)!
2-Iedereen is op een uitvoering wel een beetje zenuwachtig:je speelt op een vreemde piano,er zijn best veel mensen en je wilt heeeeel graag dat het goed gaat.
Als je er op let zul je horen dat bijna iedereen wel een paar fouten maakt.
Zolang je maar doorspeelt zal een groot gedeelte van je publiek dat kleine foutje niet eens horen!
Probeer of je voor het concert begint even de piano mag uitproberen.
Iedere piano klinkt en speelt weer anders en zo kun je hier alvast aan wennen..
Let vooral ook op hard ( forte) en zacht ( piano): je muziek klinkt nog mooier als niet alles even hard is.
Wat ook heel goed helpt tegen zenuwen:geef thuis een paar proefconcertjes.
Vraag aan je ouders,opa en oma,vriendjes en vriendinnetjes of zij jouw liedjes willen horen.
Op deze manier wen je al een beetje aan het optreden voor mensen ( hoewel je natuurlijk ook voor je hond of kat kunt spelen- die vinden dat vast ook heel mooi!)
Als je aan deze dingen denkt ga je vast een prachtig concert geven en is iedereen onder de indruk van je prachtige pianospel!
Categories: None
/